A memorable visual presence combined with a consistent tone of voice is at the heart of any good brand.
There are many routes that a brand can take to achieve this but one powerful and often overlooked tool that can help to elevate a brand is motion graphics. But what exactly are motion graphics and how can they help everyday businesses become more thoughtful and effective brands?
Black and white beginnings
Motion Graphics have a patchy history but were popularised by filmmakers and directors such as Saul Bass as early as the 1950s. Bass' work was considered out-there at the time but was used by many major Hollywood productions to engage and challenge the average film-goer.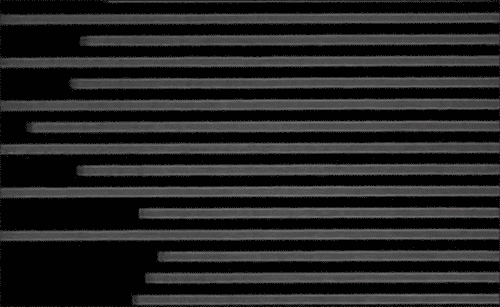 Image: Psycho Title Card (Saul Bass, 1960)
More recently, the term motion graphics has been adopted to describe the process of taking static graphics and images and making them move. The term motion graphics is often interchangeable with 'animation' and there's a lot of crossover between the two.
The world in motion
You might be thinking, ok I get it – motion graphics are important, but why is this the case?
Well, the answer's pretty simple – our world is constantly moving and our brains are hard-wired to notice things that do. This means that if something is moving, it's naturally more engaging than something that isn't.
Businesses often take advantage of this principle to help them stand out from the competition.
A well-known example that's built their entire brand out of motion is Duracell. The company's loveable bunny mascot made its first appearance on American television way back in 1973.
Image: Duracell Bunny Mascot (1973-Present)
While the mascot's debut focused on the character's cute aesthetic, over time, Duracell placed more emphasis on the bunny's movement, namely its ability to run faster and further for longer. This developed the character from the cute, mostly static ball of fluff to a speedy, marathon winner which today embodies the Duracell brand.
Motion doesn't have to break the bank
The use of motion graphics isn't just exclusive to household names, however, as movement can be used by brands of all sizes and budgets. Sometimes, the use of movement can be small and meaningful but still have a big impact.
A brand that understands this well is the popular marketing platform Mailchimp, which has carved a unique position for itself among its competitors through a strong understanding of brand identity.
Image: Mailchimp Logo
Throughout their website, social channels, and product interface, Mailchimp uses simple but effective animation to make the experience of interacting with their brand feel fun and unique.
Moving forward
Exploring motion graphics is exciting for any brand and the possibilities are endless. But before jumping in head-first, it's important to really think about what it is you want to achieve by adding movement to your communications.
That's where we come in – at Zeal, we're always interested in helping brands big and small take that first step with motion graphics and get moving!
If you want to find out more, drop us an email at: info@wehavezeal.com or call on 0113 887 3070.